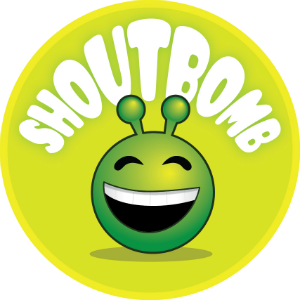 Shoutbomb Services
Stay up to date with your library accounts using the Shoutbomb text message service!
The service is provided for free by your library. However your carrier's text-messaging rates still apply.
Receive text notices about items available to pick up, items due soon, overdue items, fines, and library closures.
Send a text to request a renewal and receive a text back with the result of your request.
Manage multiple library accounts on the same phone.
You will need:
An activated, text-message capable phone
A library card
Your library card number
Your library account PIN
Online Registration
Enter your library card number (without spaces) and phone # (no dashes, parenthesis, or periods) below, and click send.

Manual Registration To start:

Create a new contact named Library or Shoutbomb on your phone with the number: (334) 218-1594
Text the new contact the following: SIGNUP+YOURCARDNUMBER+PIN or through the following steps.

Text SIGNUP to the new contact.
When prompted, reply with your library card number (2174400xxxxxxx).
When prompted, reply with your library account PIN number (xxxx).

Wait for confirmation that your account has been activated.

Notices and Commands
The following commands will send you lists related to the items that you have checked out or on hold.
MYBOOKS – Sends a snapshot of the status of all your items including unfilled holds and fees.
HL – Sends a list of holds that are available for pickup.
RHL – Sends a list of holds that will expire soon.
RL – Sends a list of items that you can renew.
RA – Renews all items that are currently available for renewal (within three days of expiration).
OL – Sends a list of all overdue items still checked out.
OA – Attempt to renew currently overdue items.
IOWEU – See what fines your account currently has.
The following notices are activated by default. You can text the command to the contact number to disable/enable to notice.
ANNOUNCEMENTS – Notices will let you know when major system-wide events happen.
CLOSURE – Informs you of when the library will be closed several days beforehand.
FEES – Informs you of when fees have accrued on your account.
HOLDS – Informs you of when holds have become available.
OVERDUE – Informs you of when items are overdue.
RENEW – Notices will let you know when you can renew items on your account.
The following commands are available to change how you use your account.
ADDCARD – Add another library card to your notification account.
DROPCARD – Remove a library from your notification account.
NEWPASS – Update your PIN with Shoutbomb if you have recently changed it.
NOTICES – See what notices are currently active on your account.
RESEND – Repeat the previous notice.
SWITCHPHONE – Switch your account to a new phone.
TEST – Test your connection to the Shoutbomb service.
HELP COMMAND – Receive information about what a different command does.
QUIT – Follow prompts to stop receiving notices.
STOP – Immediately cease all notices.
Frequently Asked Questions
When will I receive notices?
You'll receive notices between the hours of 9:00 A.M. and 5:00 P.M.
Will I be charged for using this service?
The library provides the Shoutbomb services for free. Your carrier's standard texting rates still apply, however.
Will this service replace my current notifications?
The Shoutbomb service is provided alongside other notification services at this time. You can still expect phone calls for holds. This may change in the future, however.
Can I have more than one account on the same phone number?
Yes. Text ADDCARD to (334) 218-1594 and follow the prompts to add a new card to the account
What if I switch phones, but keep the same number?
The service will usually retain your phone number. If it does not, text SWITCHPHONE to (334) 218-1594 and follow the prompts.
How do I report an issue?
If you are having issues with your account, or would like to make a suggestion, please email us at dhcls@dhcls.org.
What do I do if I don't get a reply from the Shoutbomb service?
The Shoutbomb service processes all request within 60 seconds of receiving your message, but some cell phone providers do not deliver this first message promptly.
Wait and see if the reply arrives.
If after 4 hours you still have not received a reply, text the word RESEND to the Shoutbomb contact you created.
---