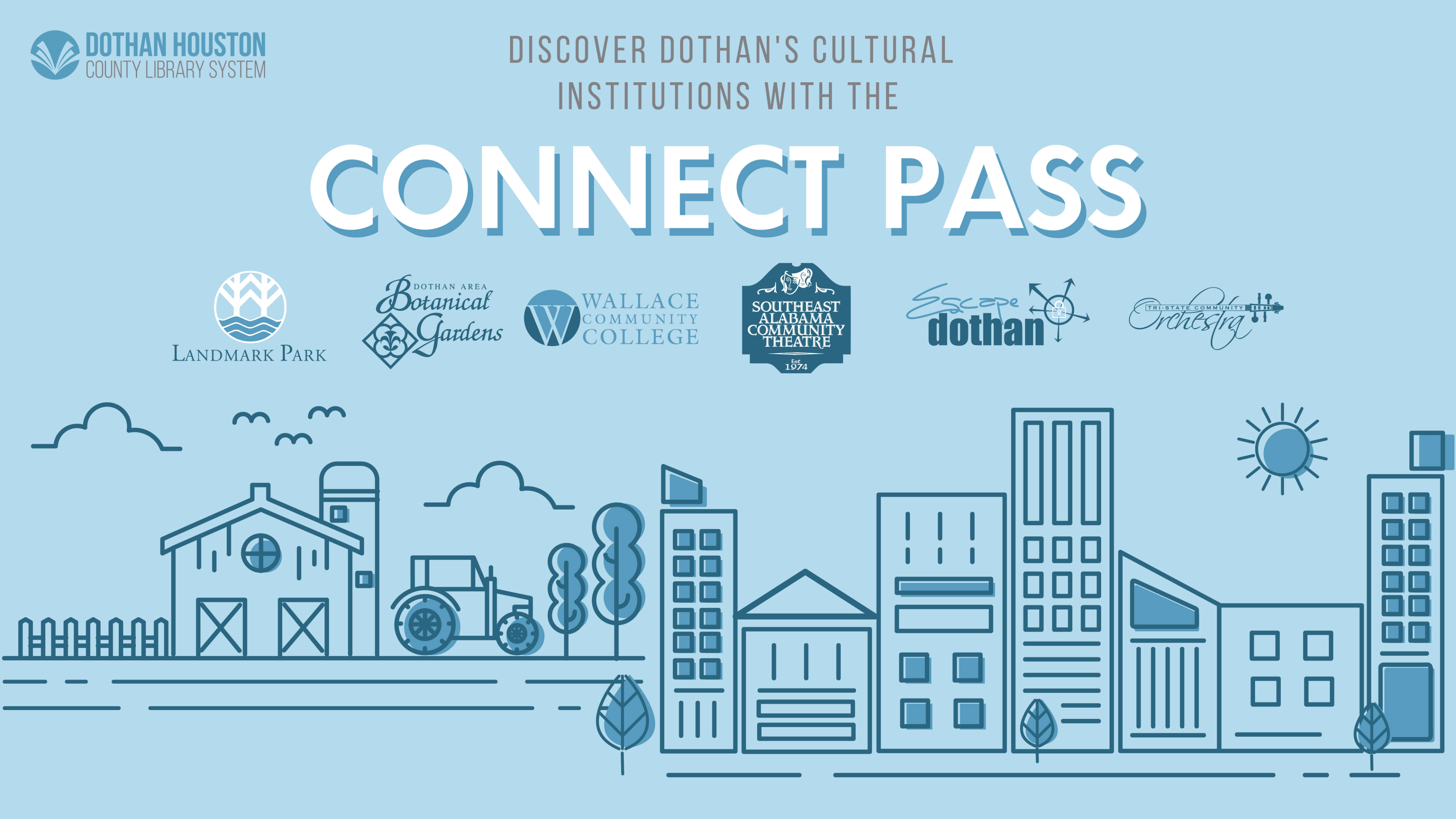 What is  CONNECT PASS?
DOTHAN is home to a number of cultural institutions and attractions and, starting today, the Dothan Houston County Library System is making it even easier for Houston County residents to enjoy these attractions and connect with the community with the Connect Pass, a program that allows DHCLS library cardholders to visit cultural institutions throughout the Wiregrass area for free.
DHCLS library cardholders can reserve a pass and get free admission to cultural institutions throughout the county. Cultural institutions currently participating in the Connect Pass program include Escape Dothan, Landmark Park, Southeast Alabama Community Theatre, Tri-State Community Orchestra, and Wallace Community College but more will be added on an ongoing basis.
To reserve a pass, you'll need a Dothan Houston County Library System library card. Don't have a library card? No problem! Stop by any of our locations to sign up.
---
Click here for a Checkout Tutorial
---

Limited number of passes available. First-come, first-served.
Patrons must be a library card holder, as well as a legal adult, to be eligible to checkout a pass.
The patron's library card must be in good standing (capable of checking out library materials) to be able to reserve tickets.
If the patron has any fines associated with their account, they can pay them by logging into their account at https://www.dhcls.org/catalog, and selecting "Your Charges" on their account page.
The library card used to make the reservation must be brought to the library and used to borrow the pass.
Passes must be picked up at the Main Library in Downtown Dothan.
Multiple instances of passes being reserved and not picked up or cancelled could result loss of access to the Connect Pass program.
An email confirmation of your reservation is NOT a pass or voucher to any location.
Click here to return to the top of the page.
---