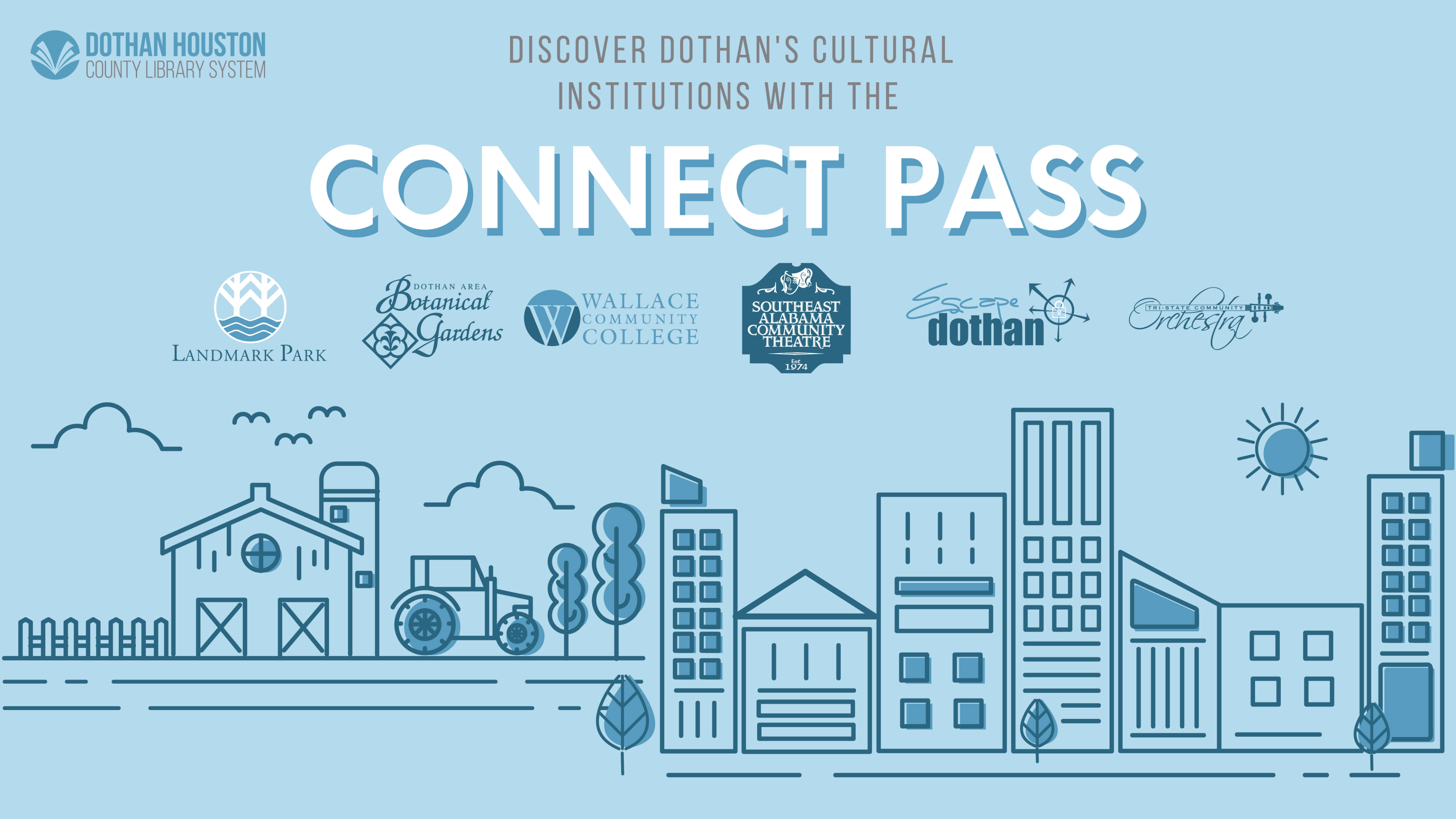 What is  CONNECT PASS?
DOTHAN is home to a number of cultural institutions and attractions and, starting today, the Dothan Houston County Library System is making it even easier for Houston County residents to enjoy these attractions and connect with the community with the Connect Pass, a program that allows DHCLS library cardholders to visit cultural institutions throughout the Wiregrass area for free.
DHCLS library cardholders can reserve a pass and get free admission to cultural institutions throughout the county. Cultural institutions currently participating in the Connect Pass program include Escape Dothan, Landmark Park, Southeast Alabama Community Theatre, Tri-State Community Orchestra, and Wallace Community College but more will be added on an ongoing basis.
To reserve a pass, you'll need a Dothan Houston County Library System library card. Don't have a library card? No problem! Stop by any of our locations to sign up.
---

To check out Connect Pass items, a patron must have a valid Dothan Houston County Library System card with current address and no outstanding fines greater than $20.00. A valid government-issued ID with picture and current address must also be presented at the time of checkout.
Borrowers must be 19 years of age or older with an adult library card. The library card used to make the reservation must be brought to the library and used to borrow the pass/ticket.
Passes/tickets must be picked up at the Main Library in Downtown Dothan.
Multiple instances of passes/tickets being reserved and not picked up or canceled could result in a library card being blocked from using the pass reservation system.
An email confirmation of your reservation is NOT a pass or voucher to any location.
Patrons may reserve one pass/ticket per month.
All tickets, passes, and items are first come, first serve basis.
Patrons must pick up their reserved passes/tickets within the reservation month or they will be forfeited.
Pass/tickets are released monthly or as they come available. The Library reserves the right to modify this at any time.
The Library is not responsible for any glitches or malfunctions produced by the ticket reservation software. Patrons agree to adhere to the policies outlined regardless of examples of double reservations, etc.

---