Meeting Room Policy
Dothan Houston County Library System (DHCLS) public Meeting Rooms are primarily used for library-related programs and activities. When not in use, DHCLS encourages additional use by outside organizations and individuals on a first-come, first served basis for cultural, civic, educational and informational meetings of interest to the community. Meeting Rooms are accessible to people with disabilities in accordance with the Americans with Disabilities Act.
When submitting your request, please provide as much detail as possible about your event in the request. Detail includes the name and library card number of the primary contact for the request, the name of your group and/or organization, and the topic or topics that will be discussed during your event. Failure to provide adequate details may delay the processing of your request.
Usage of DHCLS Meeting Rooms is subject to applicable policy. By clicking on "I Agree" below, you certify that you have read and will abide by the DHCLS Meeting Room Policy while using DHCLS Meeting Rooms.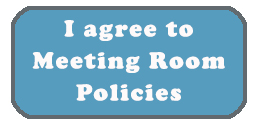 ---