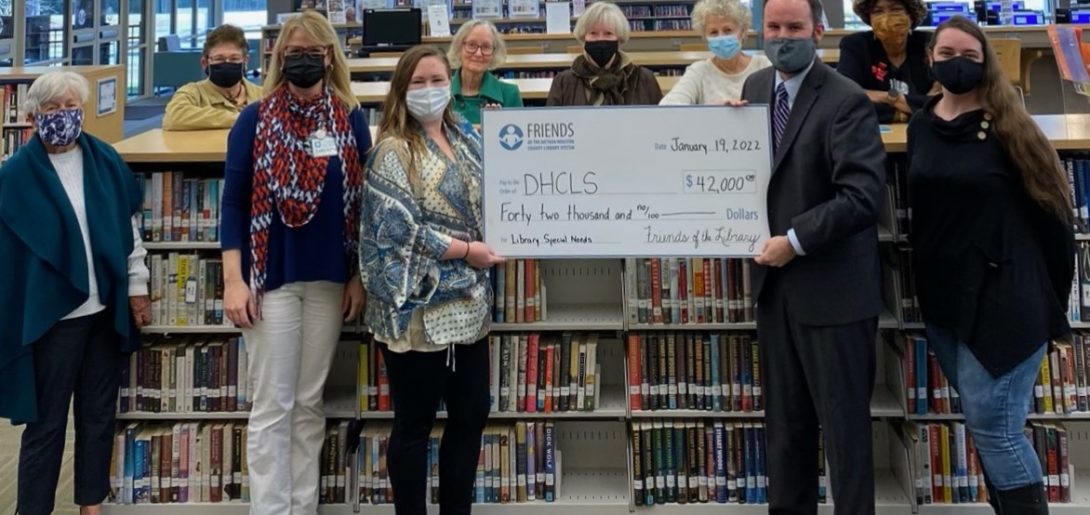 January 20, 2022

During their January 19, 2022 meeting, the Friends of the Dothan Houston County Library System (DHCLS) approved donating $42,000 of their funds to support a wide range of library projects and initiatives.
The Friends raised the funds over the course of 2021, through memberships, the Big Book Sale, and ongoing "mini book sales" at each DHCLS location. The funds will support updates to the library collection, facility improvements, outreach programs, and technology upgrades. This year's donation represents the largest annual gift to DHCLS in the history of the Friends.
"We are truly grateful to the Friends' for their hard work and generosity," said DHCLS Director Chris Warren. "Thanks to the Friends, we're able to deliver even more of the resources, programs, and services that help make our community a great place for everyone to call home."
During the meeting, the Friends also discussed plans for the spring edition of the Big Book Sale, tentatively scheduled for April of 2022.
The Friends of DHCLS support the library system financially, through advocacy, and with volunteer services. Membership donations and book sale income are donated directly back to DHCLS for specific requests and operational expenses. More information about the Friends, including an online membership form, can be found at dhcls.org/friends.
Established in 1949, DHCLS today serves a population of approximately 105,000 residents through its main library, two branches, a bookmobile, and an extensive selection of ebooks and digital resources. In FY 2021, DHCLS welcomed over 111,000 visitors, and DHCLS patrons borrowed over 170,000 items, including books, audiobooks, DVDs, and ebooks. DHCLS offers a variety of innovative services, such as the Library of Things, a Seed Library, and Story Walks at Kiwanis Park and Walton Park. The library also offers programs for children, teens, and adults, ranging from storytimes, craft programs, technology instruction, and job search assistance.