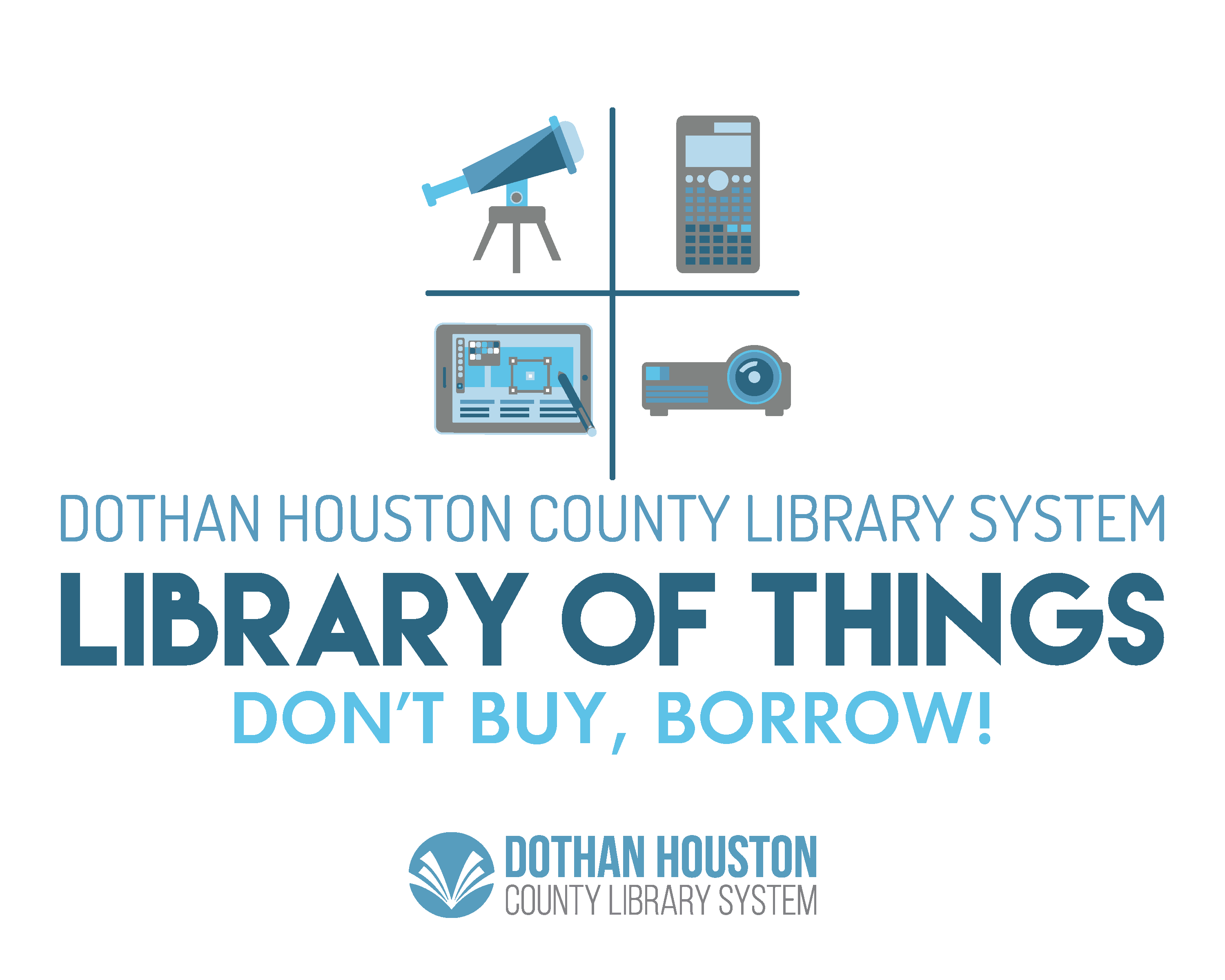 What is the LIBRARY OF THINGS?
The Library of Things is a collection of non-traditional library items that expands the Dothan Houston County Library System's collection beyond books and provides diverse opportunities for learning and engagement.
DHCLS library cardholders can reserve items and get check them out, for free, for one week at a time.
Current materials are primarily hobby, craft, and technology based, but the library is always looking to add more materials to our collection. Keep checking back!
To reserve items, you'll need a Dothan Houston County Library System library card. Don't have a library card? No problem! Stop by any of our locations to sign up.

---
Guidelines for Borrowing and Use
Limited number of items available. First-come, first-served.
Objects lent out by the Library through its Library of Things program ("Things") may only be checked out from the Front Desk at the Main Library in Downtown Dothan.
A valid Dothan Houston County Library System library card with current address and no outstanding fines above $20.00 is required to borrow a Thing.
If the patron has any fines associated with their account, they can pay them by logging into their account at https://www.dhcls.org/catalog, and selecting "Your Charges" on their account page.
The library card used to make the reservation as well as a valid photo ID must be presented. Library staff will make a photocopy and retain with the lending agreement prior to Thing checkout.
Borrowers must be 19 years of age or older with an adult library card.
Borrowers must read, understand, and sign this Agreement at the Front Desk in the presence of a library staff member every time they check out a Thing.
List of Things
(click items for details)
Acoustic Guitar
Air Compressor
Binoculars
Cake Pan Set
Cake Pop Maker
Camera (Point-and-Shoot)
Camera (Video)
Digital Film Scanner
Drawing Tablet
Drill (Power)
Drill (Impact Driver)
DVD Player
Electrical Test Kit
Fabric Steamer
Graphing Calculator
Hack Saw
Heat Press
Laminator
Laptops
Laptop & Hotspot
Leaf Blower
Megaphone
Metal Detector
Microphone
Nintendo Classic
Playstation 4
Portable Speaker System
Pressure Washer
Projector
Projector Screen
Roku Streaming Stick
SEGA Genesis Mini
Sewing Machine
Silhouette Cutter
Shop Vacuum
Stud Finder & Level
Super Nintendo Classic Mini
Telescope
Tool Box
Tripods
Turntable
Webcam
XBox One X
Loan Periods and Fines
Library of Things materials may be borrowed for 1 week at a time, and cannot be renewed.
Due to size restrictions, not all items may be taken home. Some materials will need to be used in-library after reserving.
The overdue fine is $10 per day or portion thereof to a maximum of the material costs.
Proper Use and Liability
The borrower is solely responsible for the Thing and will be billed for reasonable repair or replacement costs associated with damage or loss of things and/or peripherals due to neglect or abuse.
All Library of Things materials must be returned to the front desk. Returning materials in the outside bookdrop is strictly prohibited.
A list of replacement costs of Things is available on the Library's website and is available upon request.
The responsibility to protect against loss is the borrower's. Return the Thing with all parts and components in the original library container to the Main Desk at the Main Library. Patrons will be responsible for any damage to a Thing while in their possession.
The Dothan Houston County Library System is not responsible for any injury, loss, or damage that may occur while using this equipment.
Multiple instances of equipment being reserved and being neither picked up nor cancelled could result loss of access to the Library of Things program.


---